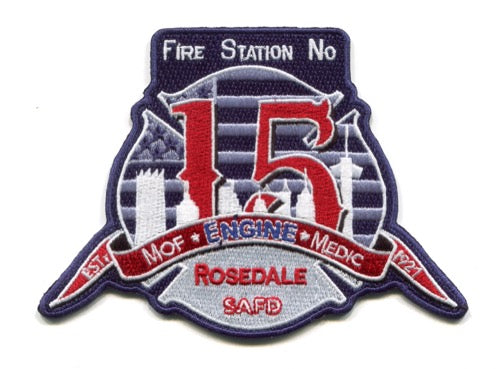 San Antonio Fire Department Station 15 Patch Texas TX
Dept. SAFD S.A.F.D. Number No. #15 Engine Medic Ambulance Medic Officer 1 MOF Patches
Rosedale - Est. 1921
New Unused Patch Approx 3 7/8 Inches Tall
We are always looking for patch collections to purchase!
911Patches is a designer and manufacturer of high quality custom made and collectible embroidered patches, emblems, insignias, logos, decals, stickers, challenge coins, lapel pins, and other products. We strive to provide the best prices, quality, and customer service around. Quality products you will be proud to wear and use. For public safety, by public safety, 911Patches is owned by a Firefighter EMT. From experience, we understand what you and your department or organization want.
Patches sold are for collection and display purposes only. ALL other use is illegal. Purchaser must abide by all governing laws concerning public safety patch emblems. 911Patches will not be held responsible for anything related to the sale of this item. All patches are copyrighted by their respective owners. All collectible patches sold on this site are obtained from the department, purchased collections, trades, authorized dealers, or authorized manufacturers. If for any reason there is a patch for sale that is not authorized, please have the department head contact us immediately and we will remove it.
FREE SHIPPING IN THE USA
3 BUSINESS DAY HANDLING TIME
RETURNS - Your 100% satisfaction is our #1 goal! If you are not satisfied for any reason, please email us at: Sales@911Patches.com, return the item within 30 days from purchase, and we will refund your purchase price in full.
International Shipping Rates:
Cart Total
00.00 to 25.00 - $2.50USD Shipping
25.01 to 50.00 - $5.00USD Shipping
50.01 to 75.00 - $7.50USD Shipping
75.01 to 100.00 - $10.00USD Shipping
100.01 and up - $15.00USD Shipping